Examination Sessions
Session List
The Exam Sessions Page will display a list of all known exam sessions that exist in the system. These will be listed in date order, showing the most recent session first.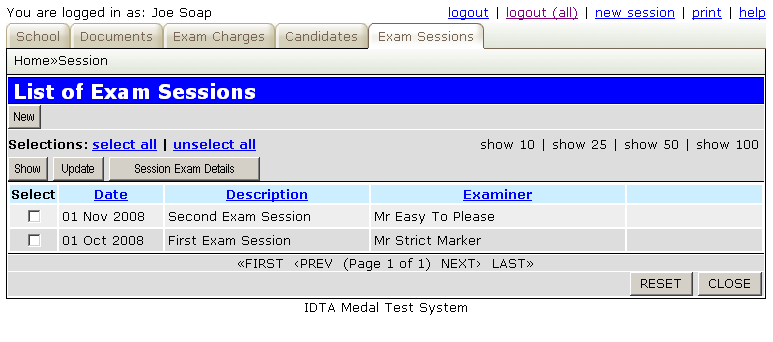 An existing session can be selected and updated (e.g. add examiner name once appointed by the IDTA).
Before entering any candidate exams the new examination session should be created, by clicking the 'New' button.
| Button | Action |
| --- | --- |
| New | Will allow creation of a new examination session (see below for details). |
| | The buttons below require an examination session to be selected first. If a session is not selected when using these buttons the error message "Primary key (session_id) is not complete - check selection" will be displayed. |
| Show | Displays the information about the exam session(s) selected, without allowing them to be modified. |
| Update | Displays the information about the exam sessions(s) selected and allows the information to be updated. |
| Session Exam Details | This option enters the Examination Details Screen allowing candidate examinations for this session to added, updated or deleted. |
| | The following buttons are at the bottom of the screen: |
| RESET | This will reset any search criteria that has been entered, or change in sort order, and redisplay the full session list in date order. |
| CLOSE | This will close the screen and return to the Home Page. |
Creating a New Session
The screen for creating a new examination session or updating existing an existing session's details contains the following items:

| Field | Description |
| --- | --- |
| Date | The date of the examination session in the format dd/mm/yyyy. |
| Description | A description for the examination session. |
| Examiner | The name of the examiner appointed for the examination session |
Adding Candidate Examinations
Once an examination session has been created, select the session on the screen and click the "Session Exam Details" button to enter the Exam Details Screen. From here you can then add candidate examinations either manually or using the automatic import function.